LEAF and ASH LLC
Cannabis Real Estate In Oklahoma
---
min

$11k
max

$1070k
funding goal
$11k - $1070k
funding goal
Regulation CF
exemption used
Regulation CF
exemption used
$4,000,000
pre money valuation
$300.00
min investment
$21,000
amount committed
39
investors
---
Security Type
Convertible Note
15% Annum
$100 Per Convertible Note
Pitch
Who are we
LEAF and ASH is a startup company focusing on becoming Oklahoma's premier cannabis real estate owner. Realizing the advantages of diversifying, we will purchase potential indoor and outdoor grow operations for hemp and cannabis on a very large scale that will be leased to licensed growers. There will also be designated leasable space for an onsite processor, or for the grower to use if they have a processing license as well. The facility will be set up with state of the art equipment that most facilities can not have on this scale at this point in their business. This will enable us to lease for top dollar and also create a community of success within the complex. With no limit on how many plants can be grown per license, the sky is the limit on the size of this operation. We are hoping to one day own the largest off-grid, organic, growing facility in the United States and beyond carbon neutral.
Problem
Oklahoma is the fastest-growing medical marijuana market in the average number of daily patient increases, and MMJ patients represent 4.1% of the state's total population – one of the highest rates in the nation. Growth is bolstered by low barriers of entry, including the fact there's no list of qualifying conditions for patients.

With almost 4,000 licensed grower in the state there is a huge misconception about the availability of flower, especially high quality flower, for dispensaries and processors. The over 1,000 licensed processors are in great need of large quantities for the numerous products they are creating on a daily basis. The smaller scale growers are trying to keep up with demand but the upfront costs of lights alone is a huge financial burden. These growers are wanting to expand to meet demands and that's where LEAF and ASH can step in and help.
Solution
Our Company has entered into a contingent acquisition of a 169 acre farm with multiple conditioned buildings totaling over 13,500 sq ft including some office space. There are several wells already drilled for irrigation throughout the property. This land will allow for several leasees to use the space to grow indoor, outdoor, in greenhouses and for at least one processor on site. After purchasing the property all funds will go into improvements to the property in a build-to-suit manner for the clients. Creating turnkey facilities for growers of hemp and medical cannabis so they are able to grow as the market is demanding.
Achievement & Traction
Through our network on social media we have already secured quite a bit of interest in what we plan to do. In so doing we currently have a grower and processor who are committed to be our first leasees. Once we have completed the first property, if there is space available, we will reach out to others that have expressed interest in leasing a turn-key space. We market this through social media, our website and network if need be. When we purchase a second property we hope to have a wait-list for future developments already in place.
Market
Oklahoma is the fastest-growing medical marijuana market in the average number of daily patient increases, and MMJ patients represent 4.1% of the state's total population – one of the highest rates in the nation. Growth is bolstered by low barriers of entry, including the fact there's no list of qualifying conditions for patients.
https://mjbizdaily.com/medical-marijuana-market-growth-with-oklahoma-and-florida-leading/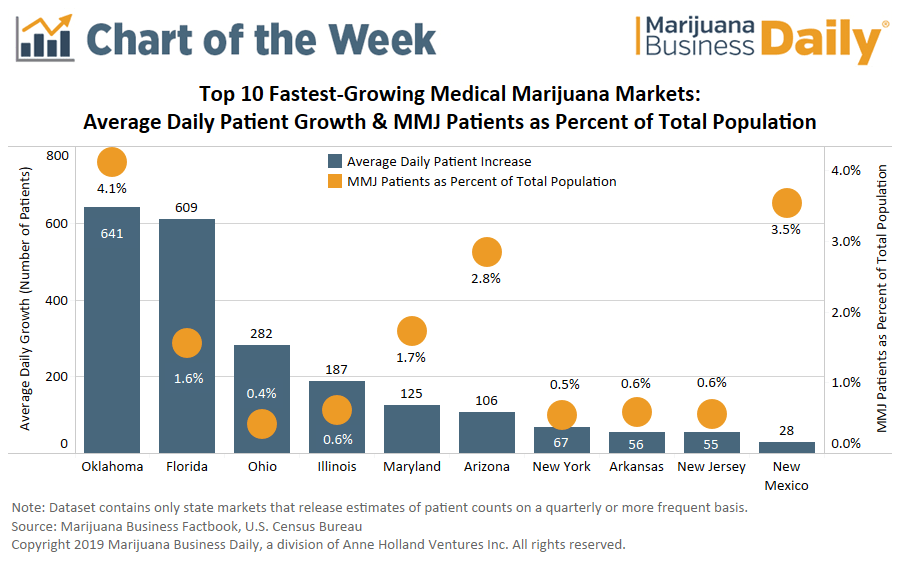 Medical cannabis sales are continuing to climb in Oklahoma, topping $23 million in May and marking the eighth straight month of growth for the new industry.
Figures from the Oklahoma Tax Commission show the state collected more than $1.6 million in May from the 7% excise tax on marijuana. Another $2 million was collected in state and local sales taxes.
To date, medical marijuana sales have generated nearly $10.7 million for state coffers.
https://www.leafly.com/news/industry/medical-marijuana-sales-soar-in-oklahoma-topping-23m-in-may
Competition
There is currently no other company in Oklahoma that we know of that is focusing on creating turnkey cannabis facilities for growers and processors to use.
Business Model
The financial forecasts are based on market value lease rates and percentage of gross receipt we believe we will receive. The base amount is charged on a regular monthly basis. Depending on sales for the grower and processor will determine the actual amount of we will receive from the gross receipts. These numbers are based on the grower selling the bare minimum that could be grown in a single year by the grower sold at $1,000 a pound which is an extremely low price. This does not include anything from the processor because those values are too volatile for us to predict.
Team
After fifteen years of working in communications, Stephanie Bryan opened a residential painting business with her husband Adam. They have had five very successful years and she is ready to start her own business in something that she is very passionate about... Cannabis.
Growing up very religious Stephanie never thought she would turn to cannabis. After years of being on prescriptions, when it became legal in Oklahoma, it was her only hope to be able to have quality of life. Having once been on thirteen prescription medications, cannabis not only provided her relief, but allowed her to discontinue use of all of them.
Knowing the advantages of owning real estate, and seeing the ongoing issues with shortages of high-quality product, Stephanie decided to create LEAF and ASH. She wants to help companies, not by loaning them money for expansion, but creating a place for them that is move-in ready. To allow small businesses to not only survive but to thrive, in this fast-moving market. Having been a small business owner already, Stephanie knows the hard work it takes not only help her business thrive but to help others grow their business to their full potential. With her husband's extensive knowledge of building, they feel LEAF and ASH is the answer for many Oklahoma cannabis businesses. They look forward to the next few years and how Oklahoma will continue to be at the forefront of the cannabis and hemp industries.
Use of Funds
Other Disclosures
Read the
Form C
filed with the SEC for other important disclosures, like financial statements, Directors, Officers, shareholders with more than 20% of voting rights, and more.
The allocation of the use of proceeds among the categories of anticipated expenditures represents management's best estimates based on the current status of the Company's proposed operations, plans, investment objectives, capital requirements, and financial conditions. Future events, including changes in economic or competitive conditions of our business plan or the completion of less than the total Offering, may cause the Company to modify the above-described allocation of proceeds. The Company's use of proceeds may vary significantly in the event any of the Company's assumptions prove inaccurate. We will retain broad discretion in the allocation of the net proceeds from this Offering, reserve the right to change the allocation of net proceeds from the Offering as unanticipated events or opportunities arise and could utilize the proceeds in ways that do not necessarily improve our results of operations or enhance the value of our Common Stock. Additionally, the Company may from time to time need to raise more capital to address future needs that we may not have anticipated as of the date of this Offering Circular.
Special Note Regarding Forward-Looking Statements
This offering contains forward-looking statements within the meaning of the federal securities laws. We caution investors that any forward-looking statements presented in this offering, or which management may make orally or in writing from time to time, are based on the Company's beliefs and assumptions made by, and information currently available to, the Company. When used, the words "anticipate," "believe," "expect," "intend," "may," "might," "plan," "estimate," "project," "should," "will," "would," "result" and similar expressions, which do not relate solely to historical matters, are intended to identify forward-looking statements. Such statements are subject to risks, uncertainties and assumptions and are not guarantees of future performance, which may be affected by known and unknown risks, trends, uncertainties and factors that are beyond the Company's control. Should one or more of these risks or uncertainties materialize, or should underlying assumptions prove incorrect, actual results may vary materially from those anticipated, estimated or projected. While forward-looking statements reflect the Company's good faith belief when made, they are not guarantees of future performance. The Company expressly disclaims any responsibility to update forward-looking statements, whether as a result of new information, future events or otherwise, except as required by law.

Moreover, we operate in a very competitive and rapidly changing environment, and new risks emerge from time to time. It is not possible to predict all risks, nor can we assess the impact of all factors on our business or the extent to which any factor, or combination of factors, may cause actual results to differ materially from those contained in any forward-looking statements we may make. In light of these risks, uncertainties and assumptions, the forward-looking events and circumstances discussed in this offering may not occur, and actual results could differ materially and adversely from those anticipated or implied in the forward-looking statements. We undertake no obligation to revise or publically release the results of any revision to these forward-looking statements, except as required by law. Given these risks and uncertainties, prospective investors are cautioned not to place undue reliance on such forward-looking statements.
LEAFandASH